The Bank of Greece honors Xenophon Zolota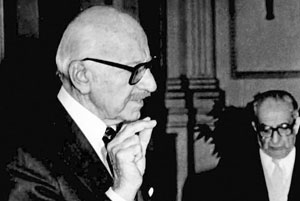 Today Monday, December 15, at 6 pm honored the longest serving governor in the history of the Bank of Greece Xenophon Zolotas (1904-2004) with a special event and the exhibition "The Professor and the Bank of Greece."
THE EXHIBITION
With material mainly from the Historical Archives of the Bank of Greece, which was first presented to the public, and others have offered the Academy of Athens, the World Bank (World Bank), the Foundation Konstantinos. Karamanlis Neritan, Iro and George Sgourakis to show "Monogram" and the House Zolota, the report in order to highlight all the important course Xenophon Zolota, is divided into five sections:

a) Photographs and rare documents from the personal archive of Zolota, relating to child and youth's age and his studies in Greece and abroad.
b) Documents relating to academic work, his election to the Academy of Athens (1952) and his writings the period 1926-1955.
c) Stage Designer representation office of the Bank of Greece, with authentic staff and service material. View the show "Monogram" from the archives of public service broadcasting.
d) Zolotas Governor of the Bank of Greece and its contribution to the country's economic development. Presented photographic and audiovisual archive material from his time as syndioikitis (1944 - 1945) and Commander (1955 -1967, 1974 - 1981) and the period of dictatorship, during which he had resigned.
e) Summary of the political action, especially as Prime Minister of universal government (1989-1990).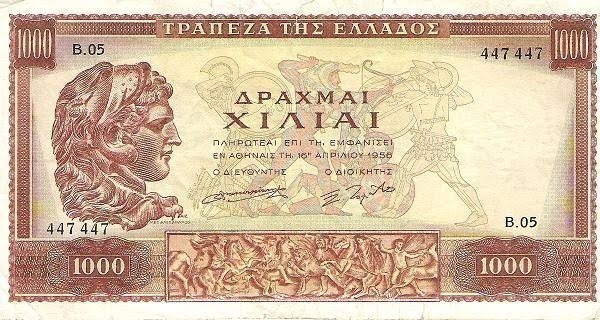 THE SOUVENIR FOR VISITORS
Guests of the report will be available free special commemorative medal by cupronickel in the form of Zolota, created by the banknote printing and Exchange Bank of Greece (IETA) and the bilingual catalog of exhibits, with scientific diligence of Mr. Psalidopoulos, adopted by the Centre for Culture, Research and Documentation of the Bank of Greece (KEPOET), which was the general curator of the exhibition. With a foreword by Mr. Stournara, the list monitors the life of Zolota, author and academic work, the work of the Bank of Greece and the innovations introduced, their contribution to the political life, his international recognition, and human aspect of his personality.
INFORMATION
Admission and opening times
Tuesday, Wednesday, Friday: 9:00 - 15:00
Thursday: 9:00 - 19:00
Closed on Mondays, Saturdays and Sundays,
as well as on public holidays
Admission is free
Group visits
Guided tours should be booked in advance
The Museum also offers educational
presentations on financial issues to organised groups
Access
By Metro - Syntagma and Panepistimio stations
The Museum is disabled - friendly
Contact information
Address: 3 Amerikis Street, Athens GR 102 50
Tel: +30.210.320.3555, - 5305, - 5306
Fax: +30.210.320.5440
Email: museum@bankofgreece.gr